Centreville Sprinkler Repair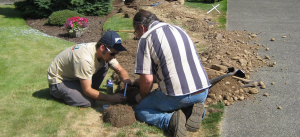 For our Centreville sprinkler repair team, sprinkler repair isn't a side business. The knowledge required to correctly diagnose and repair a malfunctioning sprinkler system requires extensive training coupled with real-world experience. While a handyman may be able to pop a sprinkler head out of the ground and insert a replacement, there is little chance that he will be able to correctly calibrate it. One mis-calibrated pop up head can cause the entire system to lose its efficiency and end up causing a host of watering issues from under watered areas to pools showing up where everything used to be fine. Our Centreville sprinkler repair team isn't trying to bash handymen, most of them are good at what they do, but they shouldn't be trying to fix precision tuned instruments like home and commercial sprinkler systems.
When it comes to sprinkler repair, there is no substitute for experience. While it's all fine and dandy to learn something out of a text book, actually doing a repair on the real thing is often much different. Our techs have worked on all of the major systems from Hunter, Irritrol, Rain Bird, K-Rain, Toro, Weathermatic and a host of smaller irrigation companies. We know what we're doing and how to make your system as efficient, if not more so, than it was when it was first installed.
Your Professional Centreville Irrigation Repair & Installation Team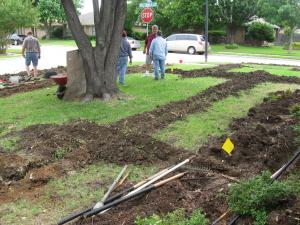 We are so confident in our ability to deliver world-class repair service that everything we do is backed by a 100% customer satisfaction guarantee. If you're not satisfied, neither are we. We'll come back and do everything in our power to make it right by you. We've offered this guarantee for over 10 years now, and as a result we've never had one customer complaint. Our techs know that our commitment to customer satisfaction outweighs everything else, and they consistently deliver.
If you don't already have a sprinkler system, don't worry, we can help with that too. Our Centreville sprinkler installation team does full custom installations for both commercial and residential customers in the area. Because we are locals and understand the climate, we can develop a zoned system that will irrigate your yard perfectly. We will set up a zone specific system that treats each part of your lawn individually so no plant gets over watered, and none go without. We also install rain and freeze sensors that will automatically shut down the sprinkler cycle once they determine that the combination of rain water and irrigation is perfect. Don't suffer hours of hand watering every week, call our Centreville Sprinkler installation and repair team and get a new sprinkler system installed today - take your free time back from your lawn now!